Welcome to GigaGolf! The special exclusive offers you are viewing have been made available to you by the site you were referred from. Please check back with them frequently to receive more special offers and discounts that only they can offer. If you have not done so already, hit the back button and save the referring site to your favorites so you will be able to return the next time you are looking for golf equipment.



How to Redeem Your Coupon




Redeeming your coupon is easy at GigaGolf. First, select the special offer product you see here, remembering the coupon code. Next, follow the 5 step eFit system to build the perfect club for you and your game online. If you have not done so already, create a user ID and password. Proceed to checkout and enter the coupon code on the online order form. The discount will be automatically subtracted from your order. Your clubs will be built in our club making facility and be on their way to your door. In most cases, they are built to your specifications and shipped within 48 business hours.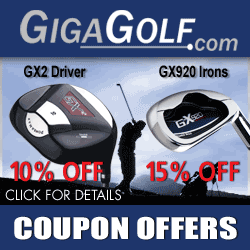 Product coupons may be used together. 5/1/2009 - Please note due to a technical issue the Revelation coupon will not work with other coupons. To resolve and get your Revelation discount, enter the coupon number in the Order Comments section of the order form. Our staff will apply the appropriate discount. The Revelation code will work when used by itself.


Thank you,
The GigaGolf Team

GigaGolf, Inc.
231 Douglas Road
Building 6
Oldsmar, FL 34677

Toll Free: 800.724.3085